The best Shopping Centres in Amsterdam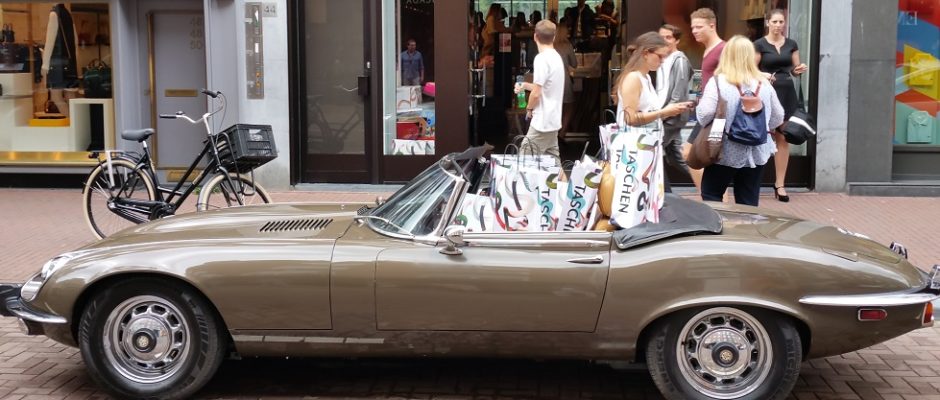 The unique feature of Amsterdam what shopping is concerned, is that for the most part you can walk almost everything in the Centre. And Amsterdam's trams are always ready for you if you like shopping at a place, which is located slightly further. In Amsterdam are hundreds of beautiful and unique shops found in several shopping areas.
Shopping in the Centre
The Centre is well known for the  Nieuwendijk, Dam square, the Kalverstraat, the Heiligeweg, the Leidsestraat, Rokin, the nine streets and the Haarlemmerbuurt with the Haarlemmerstraat and Haarlemmerdijk. The Jordaan has really nice and unique shops on the Noordermarkt, the Heren- en Prinsenstraat, the Elandsgracht and on many more atmospheric streets.
The Utrechtsestraat has a very diverse range
This street is situated from the Rembrandt square up to the Frederiksplein and the range of shops is very diverse. There are fashion stores, interior design shops and music stores and concept stores. Between the shops you can find many attractive restaurants where one can enjoy a drink and a snack after shopping.
The Spiegelkwartier
This neighbourhood breathes art. If you are fond of art this is the place to be: the Spiegelkwartier. If you visit the Nieuwe Spiegelstraat, the Kerkstraat, the Keizersgracht you will find a lot of nice Art Galleries. Really a must to visit.
The Pijp
This area is more for young people who are is hip and trendy. Unique stores with a very nice assortment you will find on the Gerard Doustraat, Van der Helststraat, Ferdinand Bolstraat and Van Woustraat. In this dynamic shopping area you will also find the famous Albert Cuyp market.
The Czaar Peterstraat
The neighborhood at the east of Amsterdam has been nominated as best shopping street where you can go hunting for unique stuff on the Czaar Peterstraat, the Eilandenboulevard and the former Stork site. You will be surprised by the wide range and finding unexpected gems in the beautiful shops.
Chic shopping in Amsterdam-Zuid
Luxurious and exclusive shops of famous brands you will find on the P.C. Hooftstraat, the Van Baerlestraat, the Cornelis Schuytstraat and the Beethovenstraat in the old part of Amsterdam-Zuid. Really glamorous.
Huge selection and wonderful shops: the Gelderlandplein in Buitenveldert
In the newer part of the South of Amsterdam, Buitenveldert, is situated the just restyled Gelderlandplein shopping centre. For years, this centrally located shopping centre is wellknown as a chic shopping center with a complete range of stores. It has a wonderful luxury ambiance and besides the shops there are fine restaurants located to enjoy a drink or a snack after shopping.
Publiciteit nodig? Publiceer onbeperkt advertorials voor 1 vast tarief!
De beste winkelbuurten in Amsterdam
Het unieke aan Amsterdam wat winkelen betreft, is dat je in het centrum bijna alles kunt belopen. En de Amsterdamse trams staan altijd klaar om je te vervoeren als je wilt shoppen op een plek, die ietsje verder ligt.
In Amsterdam zijn honderden prachtige en unieke winkels te vinden in diverse winkelgebieden.
Gezellig shoppen in het centrum
Het centrum is bekend om de Nieuwendijk, de Dam, de Kalverstraat, het Rokin, de Heiligeweg, de Leidsestraat, de Negen Straatjes en de Haarlemmerbuurt met de Haarlemmerstraat en de Haarlemmerdijk. De Jordaan heeft hele leuke en unieke winkeltjes op de Noordermarkt, de Heren- en Prinsenstraat, Elandsgracht en op nog veel meer sfeervolle straatjes.
Utrechtsestraat heeft een heel divers aanbod
De Utrechtsestraat loopt van het Rembrandtplein tot aan het Frederiksplein en het aanbod van winkels is heel divers. Van modezaken, interieurwinkels en muziekwinkels tot conceptstores. Tussen de winkels zijn vele aantrekkelijke restaurants te vinden waar men na het winkelen kan genieten van een drankje en een hapje.
Het Spiegelkwartier ademt kunst
Bent u verzot op kunst dan is the place to be: het Spiegelkwartier. Als u de Nieuwe Spiegelstraat, de Kerkstraat, de Spiegelgracht of de Keizersgracht bezoekt, kijkt u uw ogen uit als u van kunst houdt. Echt een aanrader.
De Pijp is meer voor de jongeren en is hip en trendy
Aparte winkels met een heel leuk assortiment vindt u op de Gerard Doustraat, Van der Helststraat, Ferdinand Bolstraat, Utrechtsestraat en de Van Woustraat. In deze dynamische winkelbuurt treft u ook de bekende Albert Cuypmarkt.
De Czaar Peterbuurt is genomineerd als leukste winkelstraat
Op jacht gaan naar unieke spullen, kunt u doen op de Czaar Peterstraat, de Eilandenboulevard en het voormalig Storkterrein. U zult verrast zijn van het ruime aanbod en het vinden van onverwachte pareltjes in de fraaie winkels.
Chique winkelen in Amsterdam-Zuid
Luxe en exclusieve winkels treft u op P.C. Hooftstraat, de Van Baerlestraat, de Cornelis Schuytstraat en de Beethovenstraat in het oude gedeelte van Amsterdam-Zuid.
Enorme keuze en prachtige winkels: het Gelderlandplein in Buitenveldert
In het nieuwere gedeelte van Amsterdam-Zuid, Buitenveldert, ligt het net verbouwde winkelcentrum Het Gelderlandplein. Al jarenlang geldt dit centraal gelegen winkelcentrum als een chique winkelcentrum met een compleet aanbod van winkels waar je graag komt. Een heerlijke luxe ambiance en naast winkels zijn prima restaurants gesitueerd om even rustig bij te komen van het shoppen.
Photo credit: Amsterdam Today
Interview met Bibi Mohamed van iDDNA over effectief Age Management