Amsterdam: Dining on the canals is in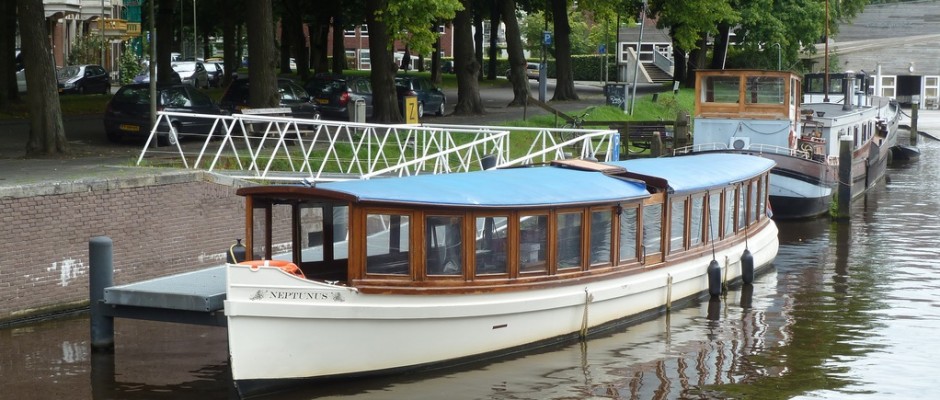 Restaurants and shipping companies have found each other. Dining on the canals is in. An aperitif is served while the lights go on and a selected group of people consume an exquisite appetizer while the whisper-quiet salon boat is situated at the dock of the Amstel Hotel. Later the salon boat will sail to Hotel de l'Europe, where the main course will be brought on board.
A romantic 6-course dinner for two, tapas for twelve, a wedding feast for 250 people-it's all possible at the Amsterdam waters. Apart from dinner cruises, which have existed for decades, there are now plenty of floating, running and walking dinners, which is being constructed at restaurants. There are dishes to go on board or there is disembarkation.
Tommy van Riet, owner of Paradis Private Boat Tours, trip with small salon boats along mostly exclusive restaurants. ' You see really that demand is increasing. I do weddings and family outings, but operate mainly tourists from five star hotels. It is pricey though, make no mistake. Three hours sailing has been coming on 580 euro and a menu is soon 150 euros. Drinks are not included in that price. ' That's for our wealthy clientele no problem. '
On busy days we have three dinners per boat per day. ' Mireille Vijaya of Classic Boat Tours agrees. ' There are now many more companies providing dinners offering, but there is still more than enough trade for everyone. ' A lot of companies like to go water dining. ' But we also have family parties.

There are now dozens of boats that sail through the city every day with dinner guests. Dining in restaurants on the water is in. Very good restaurants like La Rive, Vinkeles and Bridges take part, but also in simpler restaurants, such as the Waag and Werck, eat regularly a group of people. Oscar Nanninga, chef and co-owner of restaurant of Van de kaart op de Prinsengracht, recently renewed his whole concept, in order to meet the many requests from shipowners. Our restaurant suffered, despite critical acclaim, under the crisis. ' It started with an occasional boat, but in five years time it developed very quickly. I am now the largest caterer of the city salonboot. We work with 24 shipping companies and sometimes nineteen boats per day come to our dock. ' Nanninga decided to stop with his regular menu. ' It was not possible to combine. This month it is rather quiet, but sometimes several boats have to wait for docking and we stand with seven man in our kitchen. '
Amsterdam, the city with beautiful canals and very good restaurants. Who doesn't like to wine and dine on a beautiful salon boat? Come to Amsterdam and try this nautical gastronomic adventure.