How to deal with sexual workplace harassment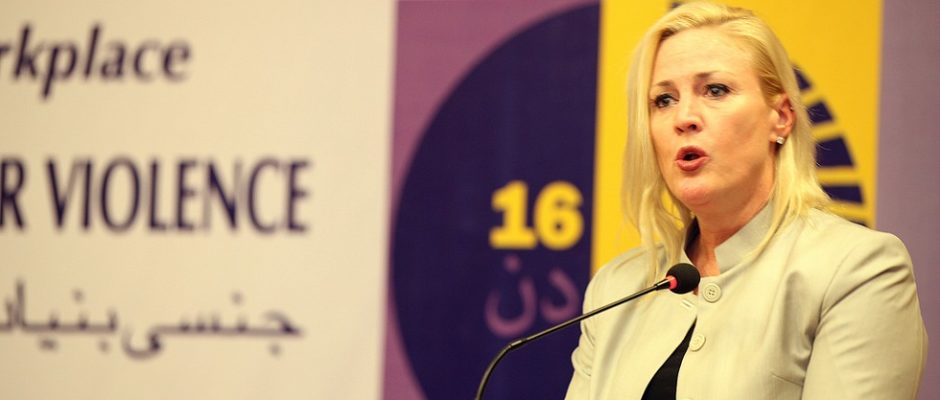 It all started with a personal experience of (sexual) workplace harassment. The period of isolation in which the harassment took place and the emotional rollercoaster you suddenly find yourself within when you speak-up.
The unbelief about some of the reactions from society and what happens to you when you realize that a superior can keep his power because independent investigation seemed not to exist. Judges are powerless because of the lack of protection within the law. We wanted to break with this taboo and the silence, that's why we shared this shocking story about sexual workplace harassment in a blog. Because of the enormous amount of reactions, we understood that we had to publish the process of workplace harassment in a book and called it 'Spitting on Hans' tosti.
During this period we've learned, empowered and educated ourselves which has been rewarded with an invitation from the University of Aruba / Center for Livelong Learning (CLL). That first lecture at the University of Aruba empowered so many people, that it made us realize that we needed to use that personal experience, because that horrible personal experience made this lecture a success and lets the society speak about (sexual) harassment in the workplace. It made employers think about the need to prevent their personnel from workplace harassment, this workshop toughens people so they can open their harts for awareness and education.
Now many lectures and workshops later we still use that real life experience in our presentations, just to let people come very close -for a few minutes- in how workplace harassment really feels. To get their full attention and willingness to understand how harassment works and how harassment affects the workplace. Only then will people learn about how to define, recognize and prevent that destructive harassment. Besides Universities we now a days present to human recourse managers, governments, labor unions, students and women rights organizations. We are proud of our results and the results that people achieve who have visited our presentations.
Creating awareness and providing education on how to achieve a workplace free from (sexual) harassment.
A healthy, respectful and sustainable work environment that is free from harassment.
Focus areas
About Workplace Harassment is an organization that helps you to understand and learn more about workplace harassment. AWH focuses its efforts in these key areas:
Awareness
About Workplace Harassment increases the public and governmental awareness of issues involving sexual workplace harassment and the impact this has on the work environment.
Education
About Workplace Harassment strives to achieve that the public and the government understand how to define, recognize and prevent sexual harassment in the workplace and realize the importance to do so.
About that anyone can be a victim of (sexual) workplace harassment.

About that anyone who will define and recognize (sexual) workplace harassment is able to stop and prevent this harassment.

About that everyone has the capacity to break with the silence around (sexual) workplace harassment.

About that society minimizes the impact and doesn't recognize the impact of (sexual) workplace harassment. That it has a devastating outcome on survivors and other victims for whom this will be a confirmation to keep silenced.

About that perpetrators gain more power from victims and survivors who keep silent.

About that verbal, non-verbal and physical (sexual) workplace harassment is a crime that needs to be convicted by criminal law.

About that including (sexual) workplace harassment into the criminal law will prevent more cases of harassment.

About that victims of (sexual) workplace harassment are not to blame and perpetrators must be held accountable, besides the company they work for.

About that our workshops contribute to increase more awareness and education in preventing (sexual) workplace harassment.

About that experiences should be shared instead of being denied out of shame.

About that we believe that empowerment is an important tool in preventing and acting against (sexual) workplace harassment.

About that recognition is necessary to recover from (sexual) workplace harassment.

About that education and awareness initiatives need to be targeted on everyone.

About Workplace Harassment and how we can help you to increase a healthy and safe environment on which every society is entitled to.

About that we believe that we can minimize (sexual) workplace harassment because of those believes we are about.
Source: aboutworkplaceharassment