Patek Philippe 2006 Limoges Vide Poche Porcelain Dish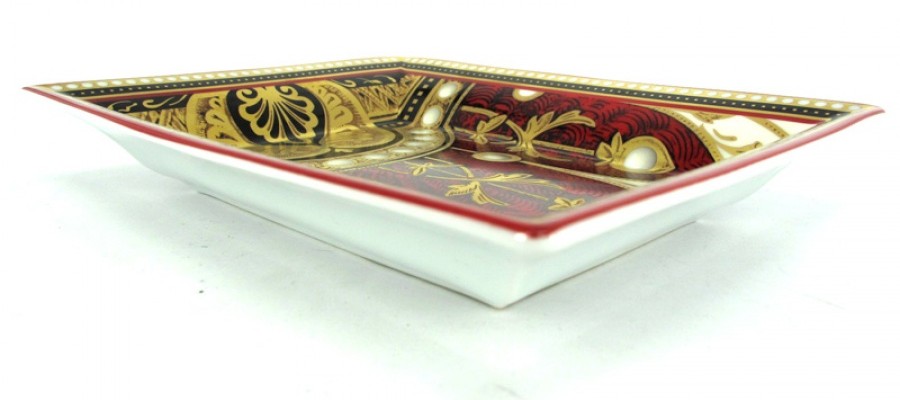 Produced exclusively by one of the world's finest swiss watch makers, Patek Philippe
Ask the owner of a Patek Philippe to talk to you about their watch, and you will hear a story of passion, love and tenderness. A Patek Philippe is far more than a means of telling the time ; it is a unique, personal object steeped in precious memories. The purchase of a Patek Philippe is often related to a personal event – a professional success, a marriage or the birth of a child – and offering it as a gift is the most eloquent expression of love or affection.
The unparalleled renown and prestige that Patek Philippe has acquired amongst connoisseurs is not due solely to the perfection of the watches and the resources of knowledge and skill contained in the workshops. This undisputed supremacy also stems from the consistency with which the company has applied its philosophy of excellence ever since it was founded in 1839. That spirit is embodied in ten values that have always represented the very essence of Patek Philippe and will continue to do so for generations to come.
Sale Information:
Patek Philippe Limoges Vide Poche Porcelain and enamel Dish From the 2006 Collection with a decorative medieval motif. This is 100% Genuine Patek Philippe, Produced exclusively by the world's finest Swiss watch maker (commerorating a unique timepiece produced by the manufacturer). A highly sort after and rare item. Presented in excellent Brand new condition, produced in limited numbers and never made available for sale to the general public. These Porcelain dishes are extremely rare and highly collectable. This dish was produced as a result of a collaboration between Patek Philippe and Limoges porcelain, this dish were made exclusively in 2006 for one year only.
Patek Philippe porcelain dish as part of the 2006 collection
Made in France by Limoges for Patek Philippe
Enamel painting of a tribute to "Omements Moyen-age"
Hand painted picture of the pocket watch from which the front design is derived
Description/name of the pocket watch in French inclusive of the date manufactured

Width: 6.1″ (15,5 cm)
Lenght: 7.6″ (19,5 cm)

100% Genuine Patek Philippe

Presented in excellent Brand NEW condition

Price: €2500,- euro