Waterdream S-740 (electric power and battery packages can be customized)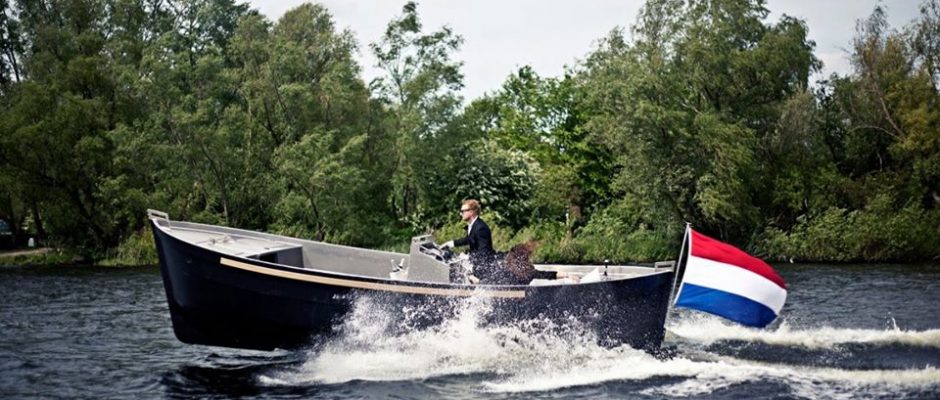 The S-740 'dream boat'
Waterdream boats are handcrafted in the Netherlands and made of thick aluminium. Thanks to their unique deep-V bottom and stepped hull with tunnel, these revolutionary boats sail like a dream, and are incredibly fast and stable. Their double spray rails can cut through waves at high speed. Waterdream boats are also self-bailing and maintenance free, so they do not require covered storage. The S-740 has a high freeboard, making it very family-friendly. The cockpit has enough space for a toilet, and provides plenty of shade for youngsters. One of the S-740's special features is its fine rivet decoration – a beautiful detail in this handmade masterpiece of Dutch design. The S-740 can be painted in any colour you wish (inside and outside).
Unique
Our boats are designed to be multifunctional – a speedboat and a comfy family cruiser all rolled into one. This model has remained extremely popular over the years because it can carry large groups of people. In fact, no other boat of this size offers so much open living space. And when fitted with a 140 hp Yamaha, you can easily tow two wakeboards.
Power
Our S-line comes with a 25hp Yamaha engine as a standard. A super fuel efficient engine with low emissions and fuel consumption. The engine can be upgraded to 145hp
We also offer an electric engine Torqueedo with different sets of lithium batteries.
Inboard we have three different Mercruiser Bravo III engines including adiesel option.
NEW
Torqeedo Cruise electric 10.0 with 4 lithium batteries of 3.500 Wh (electric power and battery packages can be customized)
BOAT SPECIFICATIONS
LOA: 735 cm
Beam: 300 cm
Cabin Height: approx. 145 cm
Vertical Clearance: approx. 150 cm
Top Speed: > 60 km/h, depending on the engine
Material: 5 mm aluminium
Standard features
Self-bailing
Hydraulic Steering
Bow eye for ski tow
150 litre fuel tank
Cabin
Bollards
Easy to tow by car (trailerable)
Engine options
Fuel
Standard 25 hp Yamaha engine (upgradable to 145 hp)
Inboard Mercruiser Bravo II 250 hp 350hp or 260hp diesel
NEW Torqeedo Cruise electric 10.0 with 4 lithium batteries of 3.500 Wh (electric power and battery packages can be customized