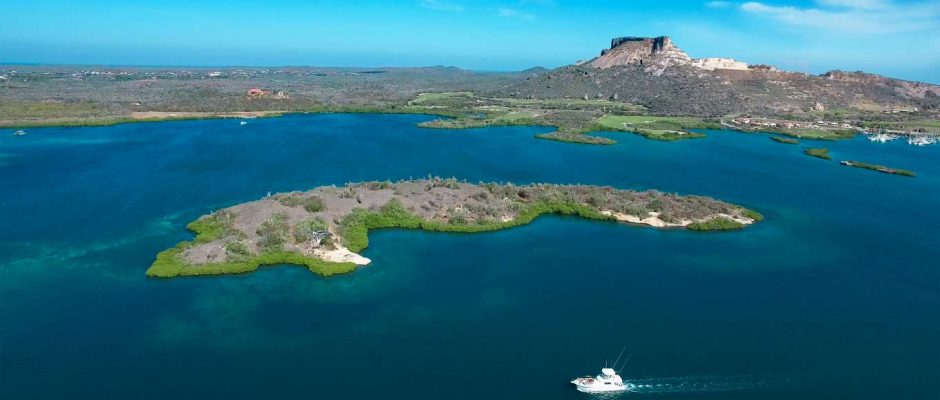 Isla Di Yerba
Het Spaanse Water is zonder twijfel een van de mooiste locaties op Curaçao. Het wonen is hier luxueus en exclusief. In het azuurblauwe water ligt het drie hectare grote eiland Isla di Yerba. Uniek, want het is onbebouwd en ongerept. Het is het enige eiland dat nog bebouwd mag worden, voor privé bewoning of een kleinschalig project van maximaal 10 villa's. Bij het eiland behoort een kavel aan vaste wal gelegen, om parkeer gelegenheid te creëren en voor een aanlegsteiger voor boten.
Just outside of Curaçao's capital of Willemstad is the spectacular Spanish Water district, one of the island's most exclusive and beautiful areas, dotted with seaside villas owned by celebrities and successful business people. Tucked on the quiet and sheltered eastern side of Spanish Water Bay, Isla di Yerba consists of around 7.5 acres of unspoiled land, and is the only island in the area that may still be built upon. While its next door neighbor, the luxurious Isla Kiniw, has room for just one villa, Isla di Yerba has ample space for up to 10 villas – or, if you prefer, a grand private residence all your own.
Surrounded by azure Caribbean waters, Isla di Yerba also comes with a lot on the mainland with room for parking facilities and a boat jetty, providing convenient access to two marinas and The Old Quarry Caribbean Golf Course at Santa Barbara Resort Curaçao. The exclusive nearby community of Jan Thiel is home to several leading restaurants as well as numerous beach clubs and resorts, making it a fast-rising destination for upscale tourists.
Set in the safe, hurricane-free Lesser Antilles and enjoying year-round sunshine, Curaçao is an autonomous island within the kingdom of the Netherlands that offers fiscal appeal with its penshonado legislation – the annual tax rate for qualified settlers is just 10 percent of their entire world income. It's also located only a 15-minute flight from popular Aruba and the diver's paradise of Bonaire, and just 40 miles off the northern coast of South America, making it a natural hub for business with the continent.
Getting to Curaçao is easy, with direct flights operating from a number of North American cities, including Miami (three hours away), New York and Toronto. So don't miss the last opportunity to transform an idyllic Spanish Water island into a stunning Caribbean resort or private getaway.
Isla Di Yerba

Curacao

,

Caribbean

Spanish Water Bay, Curacao

Non Developed

Freehold

Private Island

$ 8,800,000

7.50 Acres
Information: Private Islands Inc.