Amsterdam is the best city for classical music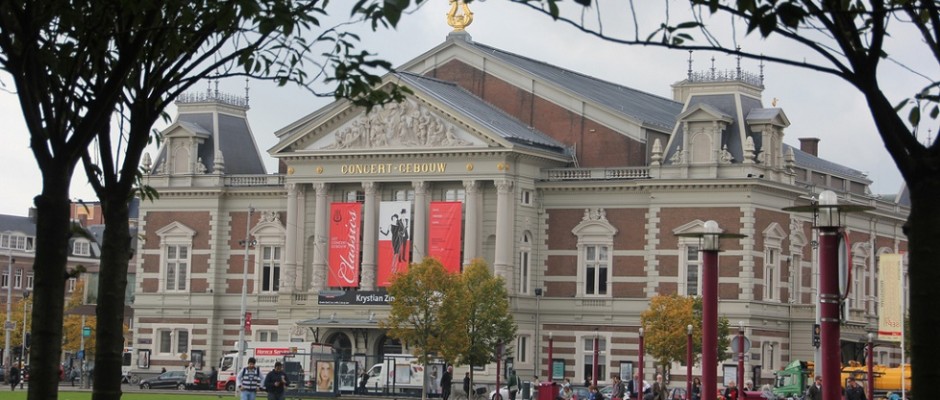 Where in the world is the best place to be a classical music fan? Andrew Mellor applies the criteria that really matter to find out which cultural capital is best for classical consumers – and his findings may surprise you. Read on to find which city bags the top spot…
In seventh place: Melbourne
The creative capital of Australia is home to (arguably) the country's best symphony orchestra and gets regular visits from Sydney's Opera Australia. The new Melbourne Recital Centre proves the city means business when it comes to acoustic music. It's just a shame ticket prices remain so extortionate.
Major institutions: 5/10
The on-form Melbourne Symphony Orchestra and Melbourne Chamber Orchestra; sporadic visits from Opera Australia
Fringe/student activities: 6/10
The Melbourne Recital Centre has upped the city's chamber music game and hosts the utterly brilliantAustralian Brandenburg Orchestra; the Australian Institute of Music has a campus in Melbourne
Value for money: 4/10
A stalls seat to watch Opera Australia can set you back almost £120. Rip-off!
Physical infrastructure: 8/10
Impressive concert halls and facilities at the Arts Centre Melbourne; new Melbourne Recital Centre is a winner
Amateur scene: 7/10
Thriving Royal Melbourne Philharmonic Choir and Orchestra; good amateur and youth orchestra scene led by the professional-feeling Heidelberg Symphony Orchestra
Getting around: 8/10
Great public transport made easy to use by a handy smart-card system – and Melbourne is more and more cycle-friendly
Total: 38/60
---
In sixth place: Tokyo
In spite of its fierce determination to never be seen as 'dusty' or 'old-school', Tokyo nevertheless has some of the finest and oldest ensembles in the world and is the perfect place to enjoy classical music without some of the frosty European trappings.
Major institutions: 8/10
Tokyo has an impressive six symphony orchestras, including the NHK Symphony Orchestra and New Japan Philharmonic. The Bach Collegium Japan is deservedly famous but Toyko only has one Western-style opera house, the New National Theatre in Shinjuku
Fringe/student activities: 6/10
Japan's classical music scene is known more for excellence than experimentalism, though good stuff does happen; concerts at the Tokyo College of Music are often open to the public
Value for money: 5/10
A stalls seat to watch opera at the New National Theatre can cost up to £145. You'd expect a quality show at that price…
Physical infrastructure: 8/10
As high-spec as Tokyo itself: the New National Theatre, which opened in 1997, has a neat 1,800-seat opera house; Suntory Hall is known for its great acoustics and vineyard-style design and has fully recovered from the devastating 2011 earthquake; the Opera City Concert Hall is breathtaking
Amateur scene: 6/10
Active but very hard to engage with for visitors or expats
Getting around: 7/10
Tokyo isn't the most compact city in the world, but as a counterpoint to its density and sprawl, the Tokyo Metro is one of the world's best public transport systems (but it does shut at midnight…)
Total: 40/60
---
In joint fourth place: Boston
More than any other American city, academically minded Boston is built on discovery and enlightenment – values that founded great classical institutions and keep the city innovative and curious, too.
Major institutions: 6/10
Home to the Boston Symphony Orchestra (newly allied with the Leipzig Gewandhaus Orchestra), the semi-professional Boston Philharmonic Orchestra, the fascinating Boston Modern Orchestra Project (BMOP) and early music group the Handel and Haydn Society. It's just a shame the Boston Lyric Opera is only part-time
Fringe/student activities: 9/10
BMOP blazes a trail here, but there are also quality student offerings from America's oldest independent music school, the New England Conservatory, and the Berklee College of Music, both of which have impressive facilities. As the pianist Stephen Hough says: 'Maybe the best place to live is actually a town with a great music school when there are countless student events to attend'
Value for money: 6/10
A stalls seat at the opera costs up to £120 – expensive, given Boston Lyric Opera's status and schedule
Physical infrastructure: 6/10
Symphony Hall, a homage to the great shoebox concert halls of Europe, doesn't have great sightlines but does have bags of atmosphere and fine acoustics. There are equally beautiful auditoriums at the New England Conservatory and Berklee College of Music, but Boston lacks modern venues
Amateur scene: 8/10
The lively Boston Civic Symphony is the tip of a huge amateur music-making iceberg in Massachusetts – many of those first-rate minds chillax by playing or singing in their spare time
Getting around: 6/10
Boston's transport system can be difficult to navigate – and you'd better not drive, given the city's reputation for traffic jams
Total: 41/60
---
In joint fourth place: Budapest
Straddling the Danube, the most musical river of them all, Budapest is as picturesque and popular as ever. But considering the city's position in the heart of 'old musical' Europe, many of its classical institutions are relatively young. And best of all, Budapest is easy and oh-so-cheap.
Major institutions: 7/10
The city has three symphony orchestras (including the renowned Budapest Festival Orchestra); theHungarian State Opera is well resourced and slowly modernising
Fringe/student activities: 6/10
Multiple events at the Liszt Academy, many free of charge; not much of an early/choral music scene but plenty of chamber music
Value for money: 10/10
A premium stalls seat at the Hungarian State Opera is £12. Bargain!
Physical infrastructure: 7/10
A real-deal new concert hall, Müpa Budapest, opened in 2005 and the Hungarian State Opera is one of the most ornate opera houses in the world; otherwise, dusty halls and churches
Amateur scene: 4/10
Active but not all that visitor-friendly in terms of either accessibility or quality
Getting around: 7/10
Budapest is labyrinthine but eminently walkable – and there's a lovely fleet of comfy yellow trams
Total: 41/60
---
In third place: Glasgow
Gorgeous Glasgow happens to be the only UK city outside London to boast a resident opera company and two symphony orchestras. London might have more orchestras, but Glasgow's concert halls have fine acoustics – and the Glaswegians that fill them are as down-to-earth as they are serious about art.
Major institutions: 7/10
The Royal Scottish National Orchestra, BBC Scottish Symphony Orchestra and weekly visits from the Scottish Chamber Orchestra; Scottish Opera isn't what it was, but at least it's still going…
Fringe/student activities: 7/10
Plenteous offerings at the Royal Conservatoire of Scotland, a burgeoning experimental scene and good early music led by the multiple award-winning Dunedin Consort, which regularly visits from Edinburgh
Value for money: 6/10
A stalls seat to see Scottish Opera costs up to £77 – a bit steep for the product and the location
Physical infrastructure: 7/10
The City Halls complex provides the perfect counterpart to the sleek wooden Royal Concert Hall – both sound great, but there's no purpose-built opera house in town
Amateur scene: 8/10
Strong: this is one of the most community-oriented cities on earth
Getting around: 7/10
Transport is compact and easy to navigate – and if you can't face those hills, there's always the Clockwork Orange, Glasgow's Alice-in-Wonderland underground
Total: 42/60
---
In second place: Copenhagen
Often lauded for the high standard of living it offers, the easygoing Danish capital takes its performing arts seriously – and you can see it: the Copenhagen skyline is dominated by the fly-towers of a new theatre and a new opera house. And that's just for starters…
Major institutions: 8/10
Copenhagen has three fine symphony orchestras, including the Copenhagen Philharmonic, as well as the leading Nordic opera company and more than its fair share of small professional groups – oh, and there's an additional opera company and symphony orchestra over the bridge in Malmö, a mere 20 minutes away
Fringe/student activities: 8/10
Chamber music is on the up in Copenhagen and early music has been thriving for years, led by the venerable Concerto Copenhagen; as in London, many city churches employ professional singers; and the large Royal Danish Academy of Music literally has an open-door policy for visitors
Value for money: 7/10
A good stalls seat to see opera at the Royal Danish Theatre costs about £65. Fair enough – this is Scandinavia, after all
Physical infrastructure: 10/10
Three beautiful orchestral concert halls, one new; two equally beautiful opera houses, one new; dozens of stunning churches with organised concert series and a huge public music library… and Europe's newest concert hall, the Malmö Live Konserthus, is just a bridge-hop away in Malmö
Amateur scene: 6/10
The amateur choral and orchestral scene is strong around Copenhagen, but benefits the resident more than the visitor – concerts can be invisible
Getting around: 9/10
The fast, user-friendly Metro runs 24 hours a day – but you'll only really need it when your bike gets a puncture
Total: 48/60
---
And the best place to love classical music: Amsterdam
Amsterdam has taken some knocks recently in the form of culture budget cuts, but the Dutch capital's cultural magnetism remains indefatigable. Creative minds still flock here, as they did in the 17th century, and there's no sign of a let-up. Stephen Hough says: 'London and New York are hard to beat, but I'll say Amsterdam is the best city in which to be a music fan. It has the full range from early music to cutting-edge contemporary, and arguably the greatest concert hall in Europe in the Concertgebouw.'
Major institutions: 9/10
Amsterdam lost an orchestra in 2013 but it still boasts three symphony orchestras (including the famous Royal Concertgebouw Orchestra) and a full-time chamber orchestra, the Netherlands Chamber Orchestra. They all rotate in the pit for the ever-innovative Dutch National Opera.
Fringe/student activities: 9/10
There are copious early, new and chamber music ensembles in Amsterdam to complement those mentioned above; and the Dutch capital's fringe scene – with an emphasis on experimental music – is notoriously lively
Value for money: 6/10
A top stalls seat at the Dutch National Opera is about £130. Pricey – Holland's arts budget cuts are beginning to bite
Physical infrastructure: 9/10
At least that opera seat will be comfortable: Amsterdam's user-friendly, canal-side opera theatre opened in 1986; add to that the iconic Concertgebouw (the model for Boston's Symphony Hall), the many city churches and, at the other end of the scale, the funky new Muziekgebouw
Amateur scene: 9/10
Among the best in Europe – well publicised, remarkably international and always welcoming to tourists
Getting around: 7/10
Amsterdam is perfectly sized, notoriously bike-friendly and traversed by cool, low-lying trams – but at peak times, crowds can scupper even the best-laid travel plans.
Total: 49/60
Source: sinfinimusic.com
Photo credit: Matthew Black / Foter / CC BY-SA